reason I haven't combined them all in one thread. Tsk tsk to me, ney?
Anyway, I'll delete what threads I have open in here because I'll make them obsolete by posting the pictures on this thread. Thank-you all for those that have commented on them, but I'm sorry that your beautiful comments will go bye-bye. *sniff*
Looker be warned ... the old stuff is scary. And not just old-old stuff. But the artist is the greatest critic, yes?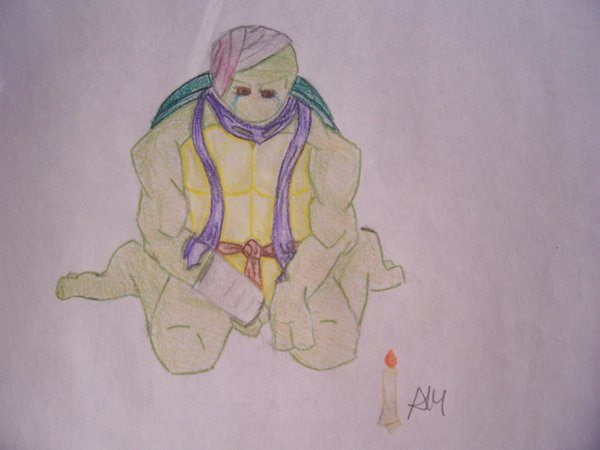 Rage-Driven Result
So here's crap-o number one from 2008. My anatomy leaves something to be wanted for, there isn't any shading and it plum doesn't look right. Goes along with my first attempt at a TMNT fanfic, which is unfortunately also posted on this forum. Don't go looking for it ...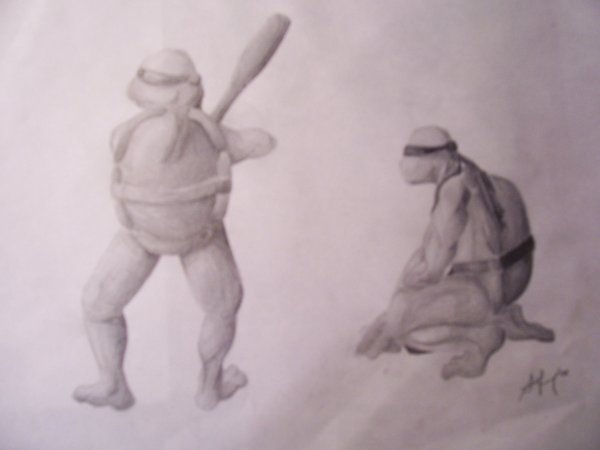 Raph At Bat
Again with the anatomy! Obviously I needed to hit the books three years ago. I shaded this one, at least, but ... cameras take crappy pictures of pictures. No story behind this one.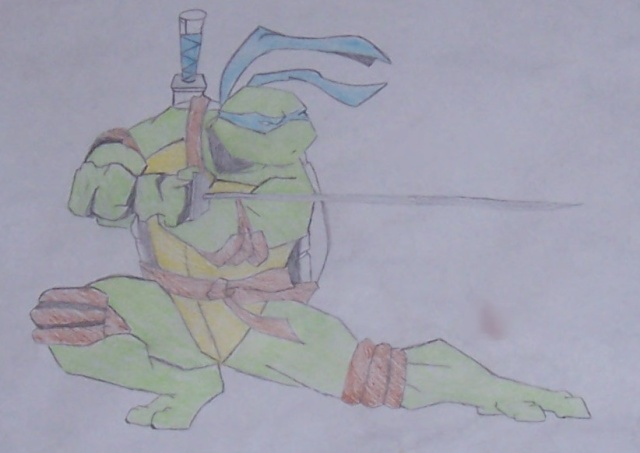 Leonardo
... really? Creative title, huh? But a copy-cat picture that I colored in a looong time ago. Copy-catting is very nice when you're trying to pick up a style, I'll tell ya.
Jump
Er, you can tell this one was without reference. Oh! And from the year 2007. So that means the Leonardo one's from that time period, too. Garsh.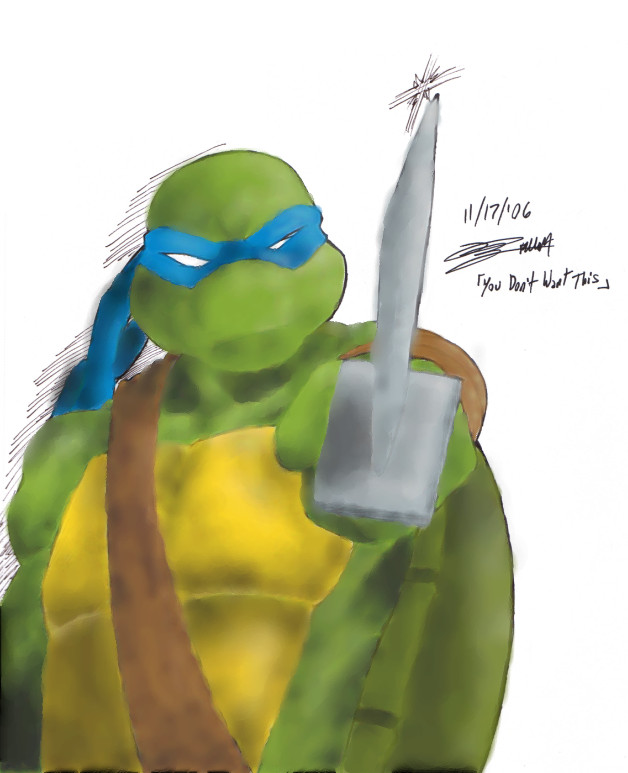 You Don't Want This
Digitally colored in Fuwa's line art, because she let me. At least I think Fuwa's a girl. Anyway, it was my first digital art ever. And it took me a darned long time. I won't even bore you with all the WIPs I posted along dA. *facepalm* I can do much better than this now.
Loving Material Things
This one's special simply because it pulled me out of an Artist's Block. Who knew throwing things across the room could make me pick up a pencil out of inspiration. Notice how wrong the angles are, though? Oh well. Can't judge raw inspiration.
Uh ... Handstand
You can tell I'm slightly improving over the years. My cousins bugged this picture out of me, I think. Anatomically incorrect, but I didn't study muscles at all yet ... and I hadn't any references besides what was already in my sketchbook. Which I believe was not a lot.
TMNT How-To: Skull
This was actually for everyone's favorite Livi, right on the site. I promised her I'd make a TMNT tutorial. Better late than never? lmao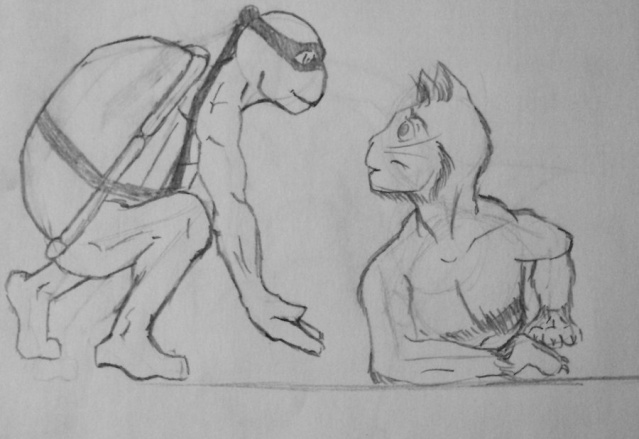 Lending a Hand
Pencil lines of Donatello and Lila. Lila happens to be my OC, which I played on the first ever RP on this site, and is a character in my current TMNT fanfic ... titled Lila. Proportionally incorrect, but it's cute ... ish.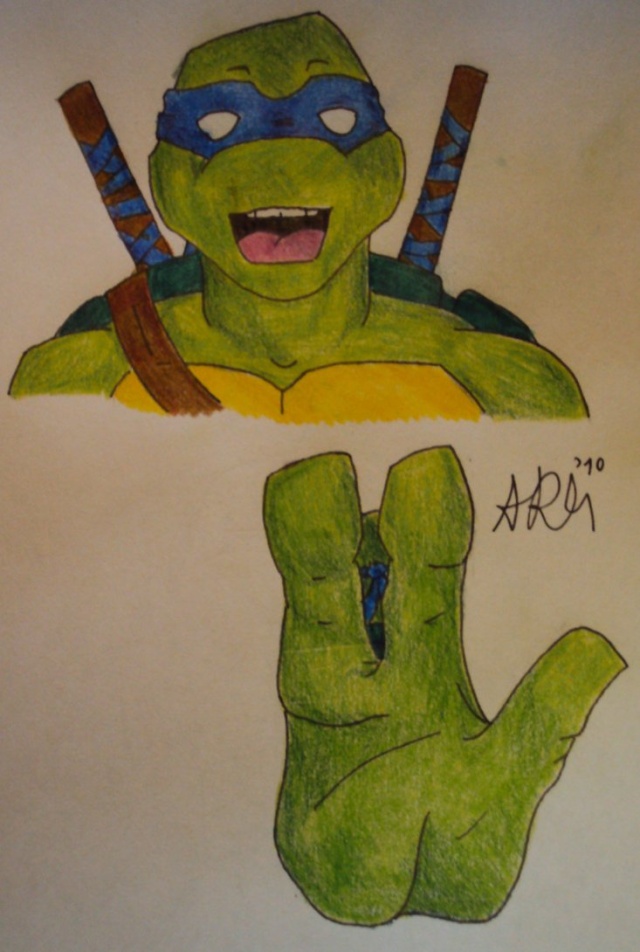 Leo's Opinion
RANDOM FAN: Leo, can't I ask you a few questions?
LEO: Sure.
FAN: Do you love your brothers?
LEO: Of course I do; they're family.
FAN: Oh, okay, who do you do it with most?
LEO: E-excuse me?
FAN: You know, do it with. Every fanfic I read, you're doing it with someone else.
LEO: *leaves, spitting out curses*
Quick Mikey
Title says it all. XD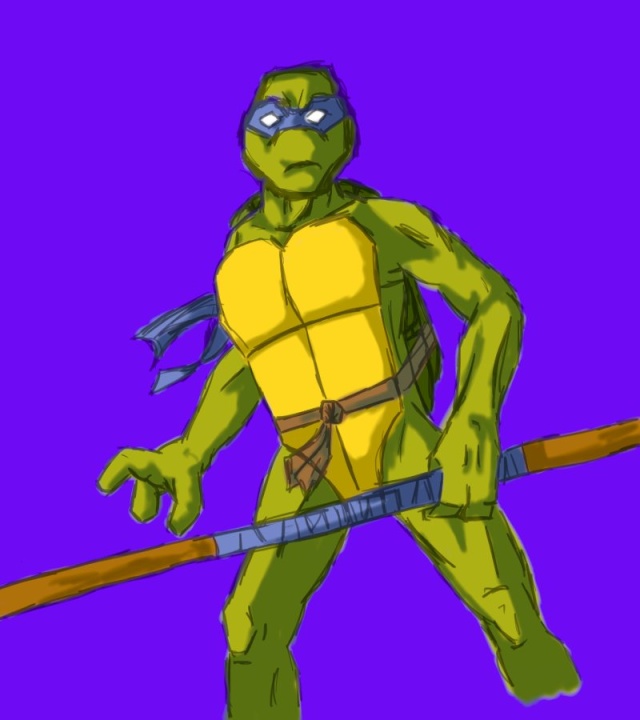 Quick Donny
Since I drew Mikey, I knew deep down I had to draw my favorite. Shading's all like ... wha?
Invisi-Turtle
My personal favorite to date. *sigh* And it happens to be from last year. Now THIS is more of my style. Half of the layers are turned off, though, because I was just screwing around. Looks best on a DARK background.
Dancing on the Rooftop
I decided I didn't want to deal with making a background of my own, so I just stuck a picture there and did a very crappy job at shadowing. And then used a filter to make it match Donny a little better. The shadows don't even match up. But it DOES have a background.